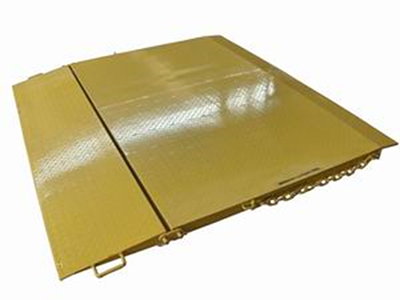 1. RAMP6500 container ramp is designed for bridging into standard containers from ground level. The ramp footing folds up to allow access to the fork slippers for transport. Hand grip loops are provided for this purpose.
Parameters:
*Heavy duty steel Plate
*Safe Working Load:6.5T
*Unit Weight:330kg
*Width:2200mm
*Length:2000mm
*Fork Pocket Size:165*60mm
*Fork Pocket Centres:775mm
*Safety yellow spray painted
2.The RAMP8000 Container Ramp has been designed for fast positioning and removal. Fitted with pockets each side, plus flip-up front tine pockets, this ramp can be manoeuvred easily in confined spaces.
Raised side plates prevent the forlift from driving off the side. The tread plate decking is fully gusseted undemeath to eliminate fatigue.
*Securing safety chains both sides of the ramp for connection to the container.
*Safe Working Load: 8000kg
*Unit Weight: 410kg
*Driveway Width: 2320mm
*Overall Length: 1800mm

Loading ramp for container